Things to do
Mostar and Kravice Waterfalls Full-Day Tour from Split
Are you looking for things to do in Mostar? Mostar and Kravice Waterfalls Full-Day Tour from Split, it is a good idea if you are going to visit Bosnia and Herzegovina because in this city doing this activity, is one of the things that you should not miss. Currently, Mostar is one of the most visited destinations in Bosnia and Herzegovina, notable for its leisure establishments and activities that you can do throughout the day and is one of the favorite destinations for foreigners. To make your life easier the next time you visit this beautiful city we have prepared the best experience in Mostar.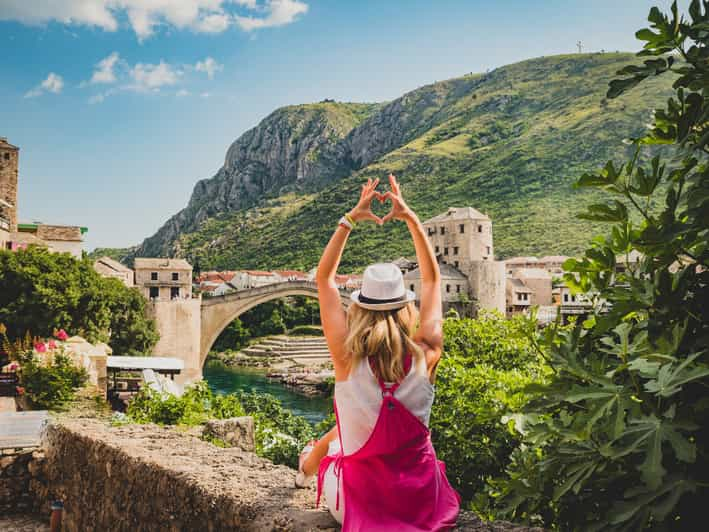 Things to do in Mostar
What to see and do in Mostar? There are many places of interest to visit in Mostar, but this time you should not miss in this city.
Mostar and Kravice Waterfalls Full-Day Tour from Split from €70.00$
Mostar Tour Description
One of the things to do in Mostar, is this experience based on 128 reviews:
"Explore the historical sights of medieval towns, swim under refreshing waterfalls, enjoy shopping, and savor delicious food on a full-day guided trip from Split to Bosnia and Herzegovina."
What will you do in this Mostar tour experience?
"Start from the delta of the Neretva River and find out more about the picturesque city of Pocitelj, dating back to the 14th-century. Walking around the city feel like you are stepping back in time so you don't want to leave your cameras at home. Before continuing your journey to the highlight of your tour – Mostar, don't miss the opportunity to taste Turkish coffee made with an original recipe.

Once you arrive in Mostar you will be astonished by its architecture, culture, people and rich history. Explore the city with your tour guide and get to know the fascinating city. Mostar is a real example of Balkan lifestyle and will inspire you with old streets, mosques, tasty food and iconic Old Bridge that stretches across the Neretva River and connects the two sides of the city. If you are lucky enough you can see one of the Mostar divers jumping into a freezing river, a tradition since 1968. You will then have 2-hours of free time to explore Mostar and do not forget to taste the famous Bosnian dishes – Burek and Baklava.

After your time in Mostar you will visit Kravice National Park. Descending into the valley of Trebizan River, waterfalls shape emerald pools, which are outstanding natural attractions. Swim on the edge of the waterfalls in the natural pools before heading back to Split. "
Check availability here:
Select participants, date and language.
---
RELATED:
Travel guide to Bosnia and Herzegovina ▶️ All you need to travel to Mostar.
What is your opinion about Mostar and Kravice Waterfalls Full-Day Tour from Split. Leave us your comments and what do you think of this activity in Mostar. If you want more information, contact us and we will help you find the best things to do in Bosnia and Herzegovina.