Things to do
"Malta: Comino, Blue Lagoon & Caves Boat Cruise"
Are you looking for things to do in Malta? "Malta: Comino, Blue Lagoon & Caves Boat Cruise", it is a good idea if you are going to visit Malta because in this city doing this activity, is one of the things that you should not miss. Currently, Malta is one of the most visited destinations in Malta, notable for its leisure establishments and activities that you can do throughout the day and is one of the favorite destinations for foreigners. To make your life easier the next time you visit this beautiful city we have prepared the best experience in Malta.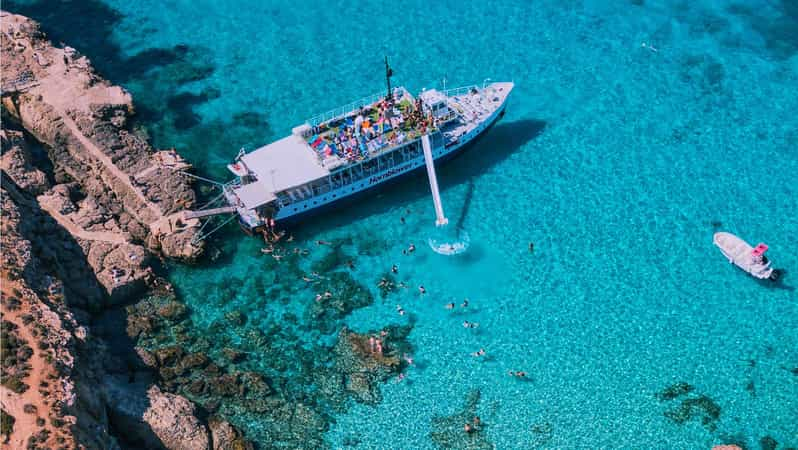 Things to do in Malta
What to see and do in Malta? There are many places of interest to visit in Malta, but this time you should not miss in this city.
"Malta: Comino, Blue Lagoon & Caves Boat Cruise" from €30.00$
Malta Tour Description
One of the things to do in Malta, is this experience based on 1,92 reviews:
"Board a family-run boat and set off to Comino Island and the amazing Blue Lagoon. Swim, snorkel, sunbathe and explore the beautiful crystal clear waters. Discover sites, caves, and history along the way."
What will you do in this Malta tour experience?
"Explore the beautiful Comino Island and the surroundings on a day tour by boat. Discover the Ahrax Cave, Santa Maria Cave, and other famous sights before swimming or snorkeling in the clear waters of the Blue Lagoon.
You will depart from the Bugibba Jetty and begin your cruise along the northern coast of Malta. Pass by all of the sights including St. Pauls Islands and the statue of St. Pauls, and Anthrax Point. Continue cruising through the north channel of Comino as you pass by the elephants' head, Santa Maria Bay, St. Nicholas Bay, and the Comino hotel.
Make quick stops to enter both Ahrax Cave and Santa Maria Cave. Throughout the journey, Captain Kevin will inform you about the sites and give you information regarding Malta. After approximately 1 hour, arrive on Comino island in the famous Blue Lagoon. The boat will moor up and you can enjoy a stop of 4.5 hours.
During the journey, feel free to use all the facilities on board the boat or get off and explore the island. Relax and sunbathe on the top deck or find some shade on the main deck. Take a refreshing plunge into the cool, crystal-clear water. 
Take advantage of male and female toilet facilities, lockers, and the cafeteria which serves hot and cold beverages. At the end of your time in Comino, head off to the island of Gozo without stopping. 
Cruise around the Mgarr Harbour and see more important sites from the boat. Return to Malta via the south channel of Comino, passing by Crystal Lagoon and its caves and St. Mary's tower."
Check availability here:
Select participants, date and language.
---
RELATED:
Travel guide to Malta ▶️ All you need to travel to Malta.
What is your opinion about "Malta: Comino, Blue Lagoon & Caves Boat Cruise". Leave us your comments and what do you think of this activity in Malta. If you want more information, contact us and we will help you find the best things to do in Malta.