Things to do
"Comino: Blue Lagoon, Crystal Lagoon, and Seacaves Tour"
Are you looking for things to do in Malta? "Comino: Blue Lagoon, Crystal Lagoon, and Seacaves Tour", it is a good idea if you are going to visit Malta because in this city doing this activity, is one of the things that you should not miss. Currently, Malta is one of the most visited destinations in Malta, notable for its leisure establishments and activities that you can do throughout the day and is one of the favorite destinations for foreigners. To make your life easier the next time you visit this beautiful city we have prepared the best experience in Malta.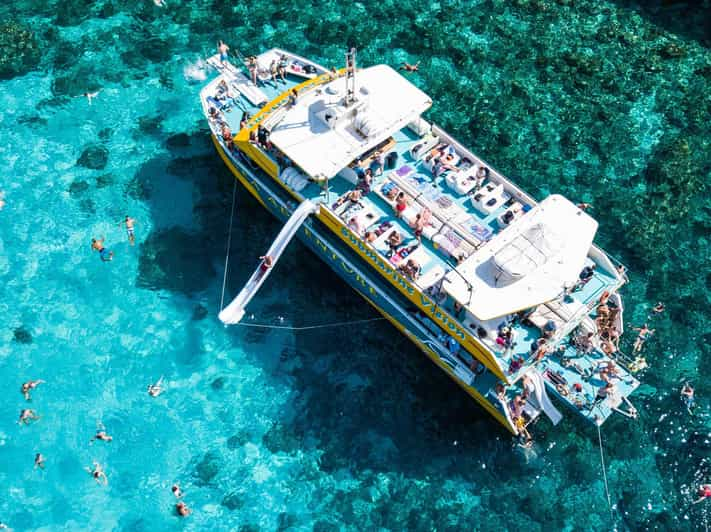 Things to do in Malta
What to see and do in Malta? There are many places of interest to visit in Malta, but this time you should not miss in this city.
"Comino: Blue Lagoon, Crystal Lagoon, and Seacaves Tour" from €25.00$
Malta Tour Description
One of the things to do in Malta, is this experience based on 1,892 reviews:
"Spend the day or evening at Crystal and Blue Lagoons, Comino. Enjoy many amenities, including water slides, washrooms, and bars with drinks and food."
What will you do in this Malta tour experience?
"Get out on the water on this cruise to the island of Comino and soak up the scenery of the island's north coast. Go to the Blue Lagoon to snorkel and swim, enter the caves of Crystal Lagoon, plunge in the crystal-clear waters from a slide, or simply soak up the sun on the boat's sun deck. After boarding your vessel, your journey to Comino Island will take approximately one hour. You will experience Malta from a beautiful vantage point from the open sea. You will cruise close to the coast, witnessing Malta's magnificent naturally-formed coastline, including its enormous cliffs, rocky nooks, and crannies.

You will soon pass the tiny Island of St. Paul's, viewing the statue of the apostle Saint Paul which rises high into the sky. You will also visit magnificent sea caves, which will allow you the opportunity to take amazing photographs. You will soon stop for one hour at the stunning but lesser-known Crystal Lagoon (June-October in fair weather conditions only). It is fringed by steep cliffs and therefore accessed only by boats. With unbelievably clear water, it is perfect for swimming, snorkelling, and diving. You can plunge into its crystal clear waters from one of the three water slides or jump from the top deck if you dare.

During the evening trip, you will stop for 2 hours in the Blue Lagoon and 30 mins in the Crystal Lagoon. After arriving at the Blue Lagoon, you will moor in the prime area. You can then use the boat as a base, utilising all the fantastic facilities, including a huge water slide and sundeck with cushioned sun loungers.

You can spend the rest of the afternoon swimming from the boat or walking ashore to explore the tiny island. Comino is also worth a visit in winter and is ideal for walkers and photographers. With no urban areas or cars on the island, one can easily smell the scent of wild thyme and other herbs. With the day drawing to a close, you will cruise back to Bugibba Port, entering the Santa Maria pirate caves and viewing the "Elephants Head"."
Check availability here:
Select participants, date and language.
---
RELATED:
Travel guide to Malta ▶️ All you need to travel to Malta.
What is your opinion about "Comino: Blue Lagoon, Crystal Lagoon, and Seacaves Tour". Leave us your comments and what do you think of this activity in Malta. If you want more information, contact us and we will help you find the best things to do in Malta.